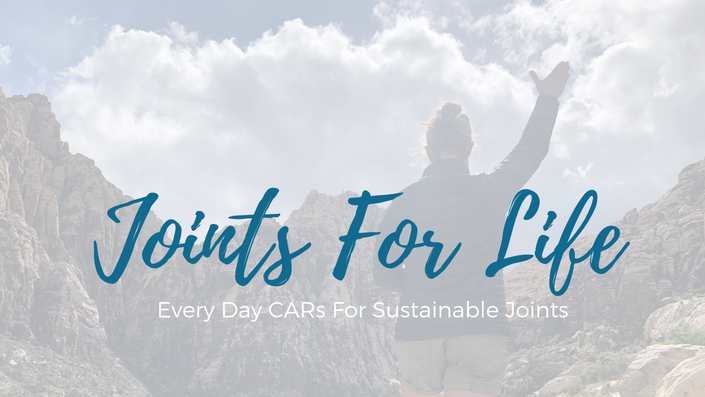 Joints For Life
"Daily care + mobility for strong, supple, sustainable joints "
If you're looking for better balance, stronger joints, less pain and more ability, then you need a daily movement and mobility practice.
In the Joints For Life program, I'm giving you the tools to create strong, healthy joints – for life. You will learn a simple, systematic daily mobility practice that will help you:
Maximize your movement potential - safely and enjoyably
Get stronger, healthier, more sustainable joints
Improve your brain-body connection
Move more fluidly, with better control
Reveal and resolve your body 'blind spots' and compensation patterns
Improve your balance
All in less than 15 minutes a day!

Controlled Articular Rotations - or CARs - are a simple, systematic and enjoyable way to move more and move better every single day. In Joints For Life, you'll get all the tools to build your own daily CARs practice - and build a foundation for better life long health, physical resilience and athletic performance.
"I like CARs because you can feel and see the benefits. Right away and over time. After Petra introduced me to CARs I was hooked. I try and do a quick round of CARs right after getting out of bed in the morning. My days are better when they start with CARs.
I have a messed up shoulder from old sports injuries (8+ dislocations) and after a couple of months of regular CARs it is moving more fluidly and feeling stronger than it has in a long time.
CARs are pure goodness. I'm going to keep doing them."
- Chris Loughren, My boyfriend, but he never does my stuff unless he really likes it.
"Hip CARs: Love them, still thinking about them"
- Amy Furness, student
"What I love about the CARS is the isometric contraction. With the contraction I can feel what's going on in the joint and surrounding muscles and the info does register more in my brain! Really a game changer!"
- Mary Chris, student
"A special thanks to you for bringing CARs into my movement practice. I am managing to fit in some or all of the basic series every day and often do more. It is remarkable how they keep on showing me things. I am beginning to understand the nuances more and more and realize what you meant when you told me that I just need to do them (or something like that) when I asked you to watch me. It is definitely a self-learning experience."
- Barbara Postman, student
"Thanks for ...the CARS – love those!"
- Judy, student
"I am so happy I took took this course and am really enjoying feeling the benefits from the CARS! I love that we learned movements to address the whole body! One of the main things I love about them is I can do some throughout my day. I can tell this will be a lifetime practice that I will continue to incorporate! Thank you for teaching about this, I am very grateful and share the tips and insights when I can! Really great stuff!"
- Summer Teixera, student
"Petra's clarity about and passion for this work is truly above and beyond. She articulates about articulation in a way that is truly accessible and relatable. I had studied and practiced CAR's prior to meeting Petra but when I worked with her online class things truly came into keener focus and I upleveled my daily practice. I have recommended her to many student of my own and all are pleased."
- Karen Sprute-Francovich, student
Course Curriculum
Start Here
Available in days
days after you enroll
All About Irradiation
Available in days
days after you enroll
CARs In Detail
Available in days
days after you enroll
Frequently Asked Questions
What is the Joints For Life program? Will it help me do my (insert any sport or movement activity here)?
The Joints For Life program will help you create a daily joint mobility practice using an exercise approach called Controlled Articular Rotations or CARs. CARs have been designed to help you use every major joint in its largest range of motion, every single day. CARs can decrease inflammation, improve brain-body connection, increase resilience and enhance your balance and control during movement. They're a fast, systematic way to give your body a big dose of the essential movement inputs we're all lacking. CARs are also an outstanding way to prepare for any other activity, whether it's walking or MovNat or square dancing. CARs let your body recruit more tissues, move more efficiently and help to safeguard your joints from injury. Finally, the Joints For Life program provides a wonderful daily practice in mindfulness and embodiment that feels fantastic as it helps create stronger, more resilient and pain-free joints.
What does the Joints For Life program include?
The Joints For Life program is designed to help you stop watching video classes and start a daily movement practice of your own, no teacher needed. But I'm giving you lots of instruction and class time so you can feel confident in your practice. Here's what you get: - An introduction that provides important safety information - A lecture on the irradiation technique that you'll use to create better sensation feedback, stability and strength throughout your CARs practice - A detailed explanation of closing angle pain and what to do about it - An in-depth detailed class with the entire full body CARs routine - A shorter 'Every Day CARs' class to use when you've basically got the hang of things and just want me to talk you through the routine - A printable 'Every Day CARs' routine for when you don't feel like turning on the computer - All the CARs exercises split out into an easy reference library in case you need to check just one thing - Bonus: Spinal Segmentation video class – the spine is a major 'sticky' spot for most of us. Get your spine moving better by working through this delicious class. - Bonus: Play With Your CARs – this extension class is designed to help you understand and explore CARs in a broader way. It offers lots of ideas about how you can play and progress with your CARs practice. - AND regular updates as I evolve my teaching and the program!
Is Joints For Life for beginners, intermediate or advanced students?
Joints For Life is great for all types of movers. For beginners, Joints For Life will help you get to know your body as you safely improve your control and mobility. You'll learn a lot about your current shape and movement patterns as you build a strong foundation and gain incredible new levels of body awareness. For the intermediate student, Joints For Life will give you new layers of understanding and connection. You may find that old, nagging injuries improve and you will start to access new levels of control, ability and fluidity. For the advanced student, CARs provide a wonderful tool for exploring and creativity. Once you understand the basic principles, you can tailor your program to your unique body. Plus the daily practice provides an excellent on-going assessment and self-check in tool. Oh, and did I mention that the CARs routine feels INSANELY good?!?!
Cost? Is there a money-back guarantee?
Joints For Life is a one-time purchase that you can keep forever. It's $45 – so about the same as going to three yoga classes – but it has lifetime benefits. And because I am so sure you're going to love Joints For Life, you get a 30-day money back guarantee. So you literally have nothing to lose!
How does the program work? What platform is it on?
The Joints For Life program is hosted on Teachable. When you sign up, you get access to the entire program, for life. You can work through it at your own pace, and then keep it for reference whenever you need to check back in.
What will I need? Do I need exercise equipment?
One reason I love CARs is that you basically don't need anything at all (though you might prefer a yoga mat). You will want to have a wall or a piece of furniture around for balance during the hip CARs, and for the Spinal Segmentation Bonus video you will want a small object like an eraser and maybe a yoga block. I highly recommend practicing in front of a large mirror so you can see your compensation patterns (we all have them!) but it's not required.
How long are the classes?
The goal of this program is to help you create a daily 10-15 minute CARs mobility practice – but you can alter that as much as you want. I love CARs so much I often find they take me more than 30 minutes – but that's because I'm playing and having fun. You can also do them super fast, or only do one or two exercises if that's what you need to do. The actual Joints For Life classes range from about 5 minutes to about 35 minutes and you can work through the entire program in about an hour and a half.
What if I have an injury? Is this therapy?
Good question. CARs are not therapy and this program is not intended to address injuries or be taken for medical advice. If you feel pain during a CARs, you should change the range you're working in so that you don't go into the area that hurts. If it's pain in the closing angle (e.g. the side of the joint that's getting smaller as you bend it) I recommend that you go to see an FR certified manual practitioner who will help you work through it. That said, CARs can be very beneficial for injuries and I've noticed that a number of old nagging body 'things' have been resolved for me as I've practiced. If you do have an injury or issue, you can explore doing lots of light CARs on that joint and on the joints directly 'upstream' and 'downstream' and see what you notice. You can also ALWAYS email me if you have any questions or concerns.
When's the best time to do CARs, the exercises in Joints For Life?
Any time, anywhere is a good time! But I like CARs best first thing in the morning because that way I can make sure they happen. For me they're both a physical activity and a meditation-like practice that helps me connect to and nourish my body, so I make them a priority every day. I recommend doing the entire Joints For LIfe CARs routine 1x daily, and either part or all of it before, during and after any intense physical activity.
Are CARs safe for hip replacements?
Basically the answer is yes, but with care. The movement should be modified so you don't to push into the weaker areas for the replacement. That's typically when you externally rotate and abduct your hip - or any other contraindications that your care team has discussed with you. For that area I would recommend working in a small, careful range - do not push into it. CARs in the hips should actually end up being very helpful since movement is so useful for healing but you want to be very conservative with your range. If that doesn't feel like something you can do safely, you have two options - one is to work with someone like me - trained in FRC - to take you through the hip work personally, or you can use the program for all the other joints, since they're all important!
Are spinal and upper back CARs safe for osteoporosis?
If you have been diagnosed with osteopenia or osteoporosis, I recommend working directly with a person who specializes in these conditions.
Your Instructor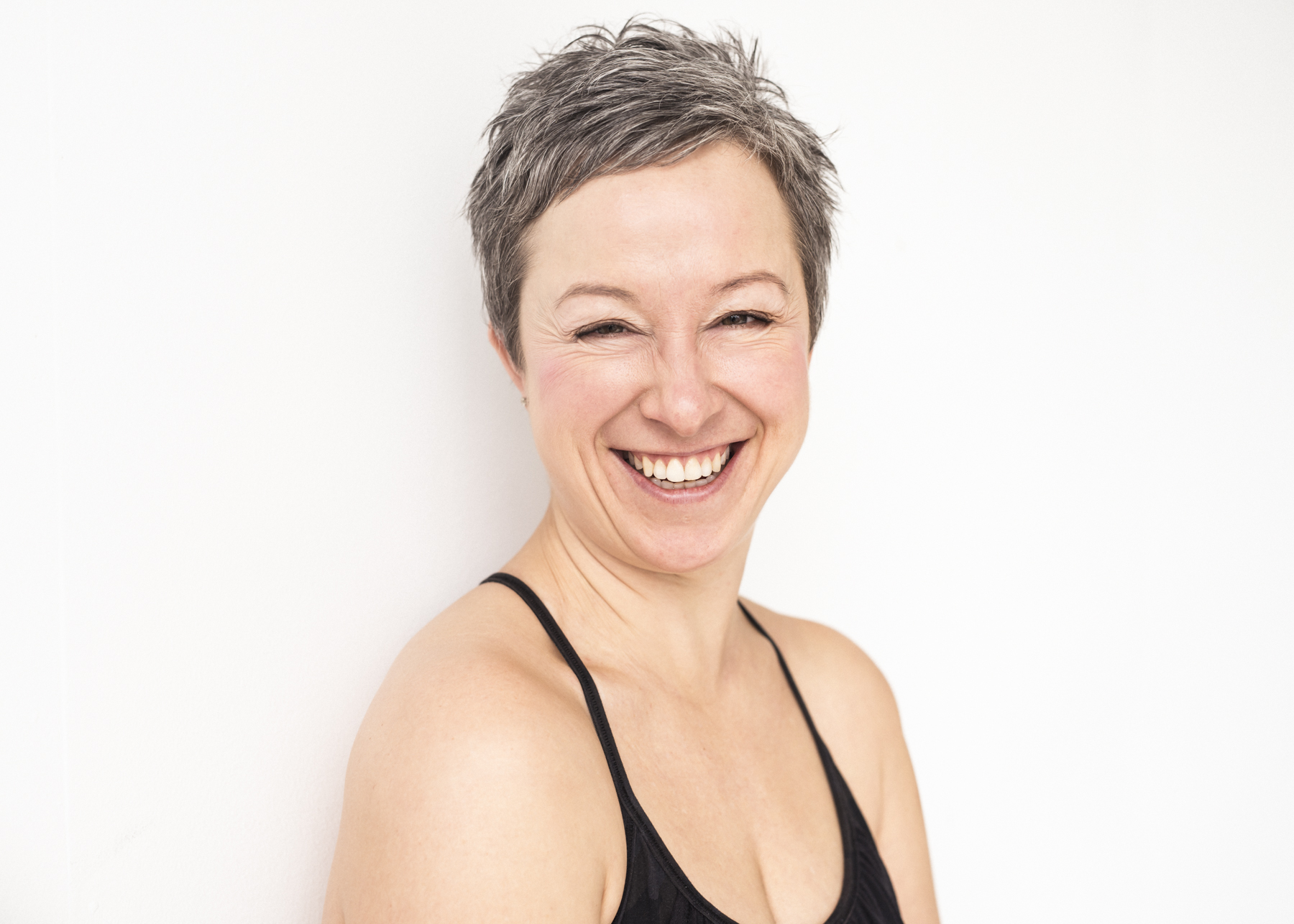 Petra was certified as a Restorative Exercise Specialist by Nutritious Movement in January 2013 and has completed over 200 hours of additional continuing education training from Nutritious Movement since that time. She is a teacher trainer for Nutritious Movement, and an instructor for the international Move Your DNA workshop program. She was certified as a Functional Range Conditioning Mobility Specialist in March, 2019 and certified to teach MovNat Level 1 in October, 2018
Functional Range Conditioning was developed by musculo-skeletal expert Dr. Andreo Spina as an evidence-based system designed to improve the amount of active, usable motion that one possesses. This heals and safeguards joints and improves nervous system connection with the body. The result is reduced pain and injury and improved joint health and longevity as well as the ability to move freely and easily.
Together, these modalities are highly effective at improving self-efficacy, decreasing pain symptoms and improving health and movement abilities.
Prior to her career as a movement coach, Petra was a practicing Ontario lawyer, graduating with a JD from the University of Toronto in 2004.